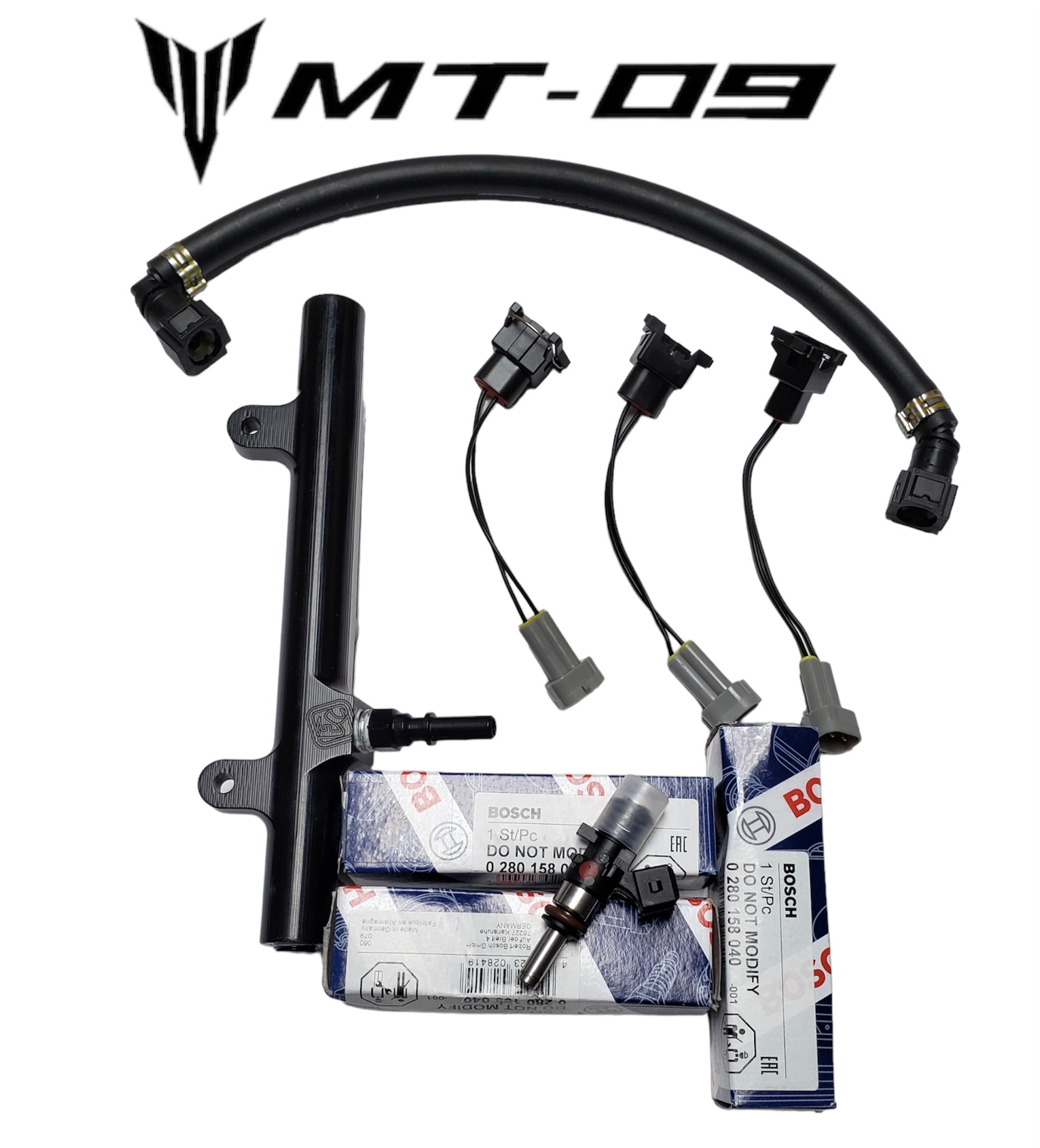 MT09 / FZ09 fuel injector & rail upgrade E85
Why is this needed? YAMAHA MT09/FZ09  14-2020
The stock MT09 injectors flow 320cc & if you are planning of turbocharging or running E85 or Oxygenated fuels then you may need larger injectors.
We have developed this kit to be a direct swap for the OEM fuel rail  & it accepts 14mm O ring injectors.
We can supply just the rail & hose or a complete kit with your choice of either  980cc Bosch motorsport injectors. 
What's included
The kit consists of a new billet machined fuel rail to suit 14mm injectors with OEM style fitting,
Replacement E85 compatible  fuel hose with OEM style connectors.
With an option of either 3 Bosch motorsport  980cc injectors with harness adaptors
The fuel rail features a much larger 10mm bore that is able to flow much more fuel than the OEM rail.
Custom tuning will be required.
| | |
| --- | --- |
| Frame Material: Wood | Seat Material: Wood |
| Adjustable Height: No | Seat Style: Saddle |
| Distressed: No | Custom Made: No |
| Number of Items Included: 1 | Folding: No |
| Stackable: No | Cushions Included: No |
| Arms Included: No | |
| Footrest Included: Yes | Casters Included: No |
| Nailhead Trim: No | Weight Capacity: 225 Kilogramm |
| Commercial Use: No | Country of Manufacture: Vietnam |